About Us
We collaborate with Indigenous Artists and elders to produce authentic books, cards and journals to tell the other side of the story of Indigenous people — of hope and of a different future. Colouring It Forward is more than a colouring book, it's a gathering place for people to share their own stories and their Native Canadian art, and to build a community. We are a 100% Indigenous social enterprise and make donations from our sales to Indigenous social projects.
Wholesale website
Are you a store owner and would like to carry our product line? Are you a school or a not-for-profit organization who would like a bulk price? Click on the link below.
Authentic Indigenous art
We Make Custom Gifts
Are you looking for authentic customized Indigenous gifts for your friends, employees or an event? We can make custom gifts for you with authentic artwork. We have experience with mugs, shirts, pens, coasters, calendars, gift boxes and more! Contact Diana@colouringitforward.com for any enquiries.
Contact us
Looking for the next Pow wow or other event?
Check out our Events list in the Menu. We share all the Indigenous events that we hear about. If you would like to add your event, please send me a few details about it! We also share this calendar in our monthly newsletter.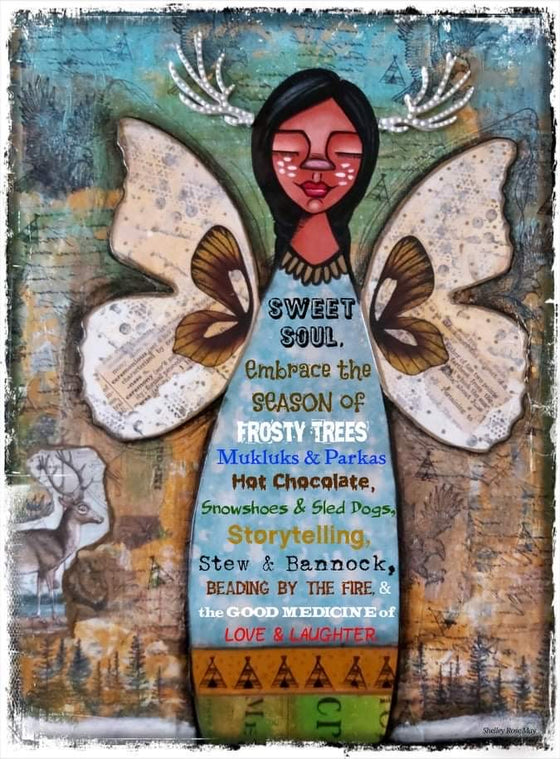 Celebrate the season
Give Indigenous cards!
Our greeting card box sets have 12 beautiful cards and envelopes. Artwork is by Shelley Rose May aka the Metis Mama and the writing is by Mark May. The cards are blank inside and have the artists bios on the back. Available at $35.00 plus GST!
Buy now!
Workshops
Arts based workshops
Are you interested in hosting an arts-based workshop ? We can offer a few options. For more details, visit our workshops webpage.
Details on services
Winner
2022 CITE Leadership Award
We are so excited that Diana won the CITE Leadership award this year for her work on reconciliation through the arts including the annual Pokaiks Commemorative event, art exhibits and more. Thanks Indigenous Tourism Alberta!
CIF Reconciliation Society
Annual Orange Shirt Day Event
Every year, Colouring It Forward & CIF Reconciliation Society organize an event to honour our children. It is called Pokaiks the Children Commemorative Event. Here is a video from 2023's Pokaiks event.
Watch the video
Projects we have donated to
THANK YOU
2021 People's Choice Award
We are so grateful to have won the What's Next YYC - People's Choice Award in 2021. Thank you Trico Foundation for supporting social enterprise!
Meegwetch!
We are so grateful to have been chosen as one of the finalists for the Indigenous Entrepreneur of the Year award given annually by the CanadianSME National Business Awards.
Merci au CDEA
Entreprise Sociale de l'annee!
Nous sommes tres reconnaissants au Conseil de Developpement Economique de l'Alberta de nous avoir selectionne pour le Laurier de l'Entreprise Sociale de l'annee 2018